On Sale
Berley Backpack
Description
Embark the unknown with the Berley Backpack. Everyday adventures become effortless thanks to our full-grain calfskin leather, making the Berley weatherproof and rugged, for quality you can trust.
Structure
Size: 16 in
Weight: 2.5 lbs
Dimensions: 12.6 in x 4.7 in x 17 in 
Strap length: 36.6 in.- 58 in. x 1.5 inch.
Details
- Rear security zipper pocket.
- Anti-Theft Adjustable Straps - Easy access pockets and a spacious interior for clothes and books.
- Suitable for school, camping, business, and traveling.
- High-quality buckles.
- Ergonomic straps for even weight distribution for your bag
Inner Design
Padded Laptop Sleeve

Zipper Back Pockets

Pen Loops
Average Shipping Times: 
North America: 4-7 Business Days

International Orders: 2-4 Weeks
Customer Reviews
08/23/2020
Creston C.
United States
I recommend this product
Wow
I've been wearing this bag for 2 weeks now, and I am seriously impressed. This bag looks beautiful, has all the compartments you'd need for a day or weekend pack, and feels very durable. I own a Nutsac 15 bag as well and this has basically replaced it as a daily wearer. Time will tell with the leather, but it feels very high quality. If you're in the market for a backpack for work or camping, this is it!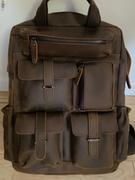 I recommend this product
Awesome
Great backpack. Everything is stitched smoothly and looks like they took their time with this bag. The pockets do get a bit bulky after some time. Overall the quality of this backpack is excellent. It holds up with consistent use and I love the marks it gets after heavy use.
I recommend this product
Stop this is what you're looking for.
I like to review most of what I purchase a few days after I order it and overall very good looking backpack, it holds up incredibly well in the rain and heat, great quality! The leather is good quality and the external pockets are convenient for things like water bottles or small accessories that you need to keep separate from the rest of your things. The buckles are metal and very sturdy. One of my favorite parts of the bag is the leather straps that run along its front. Should you load the bag with heavy items, there is no leather band that goes across your chest or waist or hip, so the support is not distributed as well as it could be. However, you'd have to pack several pounds of weight for that to really matter. I highly recommend this bag, it's my favorite. It looks like it will last a lifetime and just looks great to wear.
I recommend this product
Perfectly Sewn
All I can I can say that the backpack is perfectly sewn (the seams do not differ, holds a very large weight, has a great design (even when not filled looks good, not, as a rag on the back), on the back sits very conveniently.
I recommend this product
Definitely worth the money!
Quality of goods for the money.
I recommend this product
Love the break-in
Very well built backpack. I love the leather feel and the break in after some time and use.
I recommend this product
Great leather
Great bag no complaints
I recommend this product
Sturdy High quality leather
I was a bit hesitant to order this without seeing it first. But I ended up purchasing the Berley as a gift for me, I needed something practical to carry all my stuff to my office job. I absolutely love it. Sturdy, high-quality leather, that'll look even better with time.
I recommend this product
Organized
As soon that i saw this backpack I knew that I had to have it Its allowed me to be organized with its numerous pockets and not have them cluttered and all over the place.
I recommend this product
More supple with each use!
I was given this beautiful backpack as a gift from a dear friend, who evidently "gets" me & my travel needs. This is a backpack to lug across the world on adventurous vacations or take on fun getaway weekends. There is plenty of room for pants, blouses, shorts, etc., but it's the spaces for my computer, work/document folders, shoes, and toiletries that really count. It's effortless to store what I need in their own space. The look of it is gorgeous and timeless. The fine leather will become more supple with each use. I know I will keep it forever! Thank you!