On Sale
Kingston Backpack
Create a lasting impression whether going out with friends, a simple commute to and from work, or a relaxing getaway trip abroad, the Kingston Backpack distinct cylinder-like shape provides the comfort and versatility you need. The ample storage and durability can sustain wear and tear anywhere you go. Bring with you your essentials and feel safe that is stored in a beautiful elegant satchel. Our cowhide full-grain is hard-as-nails leather will develop a rich patina as it ages, looking more and more beautiful as you use it.
Structure
Size: 15.6 in
Weight: 3.3 lbs
Bag Size: 11 in x 5.12 in x 15.35 in
Strap length: 29.9 in - 38 in. x 2.17 in
Features
- A distinct cylinder-like shape backpack that makes it easier to compact more items without the bulk.
- Anti Theft: Reinforced metal zippers secures backpack well.
- 2 side zipper pockets for bottles and cans.
- 2 Inner pockets for wallet, keys, and your phone.
- Safety Back zipper pocket to hold a passport, tickets, etc.
- Spacious interior for blankets, clothes, even camping tents.
Inner Design
Padded Laptop Sleeve able to fit a 15.6" MacBook
Laptop Padded Compartment
Customer Reviews
07/22/2020
Tony .
United States
I recommend this product
Unique looking backpack!
This bag is well made and nice! It completely exceeded my expectations in its style design, capacity, quality, and well-organized pockets. Top-quality thick leather and stitching seem good. It's as sturdy as it looks from the photos. I think this bag can last for years and the older it gets it's going to look even better weather. The bag has enough space to fit your 15.6 laptops and all your essentials are fantastic! The descriptions and instructions are very clear that The bag might stain your clothes! With little colorfast, we suggest wearing dark clothes in 1 month. This point is very important and good! I love this vintage and casual backpack! I am satisfied with this purchase very much and highly recommend it!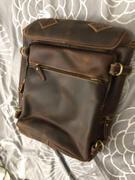 I recommend this product
Insane quality!
I was indecisive with a few bags but I am so glad I went with this one. Reviews are accurate and the quality is insane!
I recommend this product
Impressed!
I purchased this bag and received and different model than the one I purchased. I immediately emailed Algent and I was contacted by the company and they apologized for the accident and immediately shipped me the correct bag! Totally impressed!
I recommend this product
Excellent!
This bag is very stylish and useful. Plenty of room on the inside, lots of peripheral compartments. I get compliments on it very frequently. This is by far the best backpack/bag I've owned so far.